Palm Springs is a foray into mid-century opulence, pool lounges, cocktails shaken and stirred and a sun-kissed oasis in an otherwise lunar like mountain range.  It's a sophisticated laid back modern vibe of a town in a perfectly situated spot.
Date: November 2013 day light savings makes the sun go behind the San Jacinto Mountains a bit earlier, but it's still warm, the pools are heated at night and the martinis still flow.
Time: Friday-Sunday break from hectic Los Angeles. Start Friday with leisurely morning coffee, send the last work email and get out the door by noon so as to hopefully beat the traffic. Stop for food-truck lunch and a beer at Hanger24 in Redlands before checking in. Get home just in time to watch Sunday Night Football.
Budget: rest your head, feed your soul, tootle about and fill up the tank for a 2 night/3 day weekend getaway came to $ 672.50   (see below for breakdown)
Provisions: bathing suit, sunscreen, sneakers, shawl for the evening, backpack to hold the beer & picnic on the trail and cocktail supplies from home to shake up in the room.
---
Rest your head: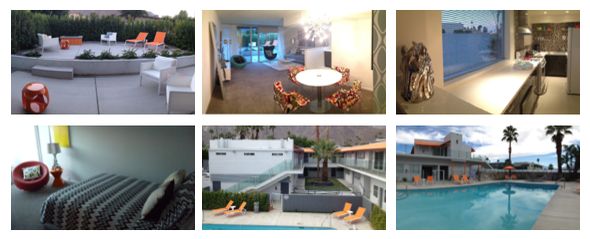 The Parker, Saguaro and Ace are incredibly groovy hotels in town filled with great design, fabulous pools, glamorous people and epicurean delights.  But having your own private base without the DJ's and steep cocktail prices is a great alternative.  Opt for VRBO & AirBnB pillows.  Unlike other towns on the rent-a-pad phenomenon, this is Palm friggen' Springs! A town that is steeped in mid-century architecture and design.  The vacation rental listings here can include retro in-law private entry studios, Don Draper bachelor condos and even 3000 sq. ft architectural masterpieces. VRBO#476029 is the former Sunset Towers hotel and departed Don The Beachcomber tiki haven located in the Old Las Palmas Neighborhood.  Now a completely renovated apartment complex, the leasing agency has a few furnished rentals on site (studio and 1-bedroom) complete with private patio fire-pit, modern furnishings, comfy queen size bed, jet shower, free wifi, stocked kitchen, communal pool and Jacuzzi, mini golf (clubs and balls included), laundry unit available and an on-site manager that's there to help.
Feed you soul:

Palm Springs has a plethora of haute cuisine kitchens around town.
But the lesser-known joints are superior without the long lines.  Shanghai Reds (tucked behind Fishermans's Market & Grill) has a $7.25 Bombay Sapphire Martini, "fresh" oysters (although didn't seem the freshest) and their baja fish or shrimp tacos are out of this world.  Taco Tip: get one of each and ask for the sauce on the side.  The after 8:00pm menu prices leave your wallet happy and your belly full.  Your next night head to Rio Azul Mexican Bar & Grill to split their Parrilladas platter – filled with searing citrus marinated grilled goodness and bacon wrapped stuffed shrimp.  The 2-person platter can feed three!  For your morning pick me up Koffi in Uptown is 1000 times less crowded than the one at the Ace Hotel and their patio out back is a great perk, but still there will be a line.  Espresso Cielo has great coffee and pastries and is a great place to learn the gossip of the previous nights soirees.
Imbibe a bit:

You don't have to go far to have a cocktail in your hand in Palm Springs.  Poolside mixologists are present at all the hotels and the lounges around town are stirring martini's beaconing you to come inside out of the heat.  Try to find a seat at the circular palm tree center bar in Las Casuelas Terraza and order a small cadillac margarita. Yes a small – they are potent.  Or grab a Hello Nancy at Birba and toast Nancy's dad Frank.  Don't forget that by having your own kitchen and private pool at your rental means you can concoct your own tasty libations and you don't have to drive!
Tootle about:

DESIGN: Just walking down N Palm Canyon Dr and up N Indian Canyon Dr is an exercise in restraint.  Especially shops like Trina Turk and Swag in the Uptown Design District with their colorful display windows that entice you to spend a pretty penny or fill your creative soul with design ideas when you get back home.
Pick up a Modern Architecture Map at the Palm Springs Visitor Center, or download the app at PSModCom.org (both $5) and start straining your neck glimpsing into driveways and those huge mid-century windows while driving around following the map or app as your guide.

AERIAL TRAM: Cling onto your partner or a complete stranger as you ohh and ahhh and maybe shriek a bit under your breath while taking the 10-minute, 5873 foot stretch ride, up to 8516 feet.  This ride is worth the $23.95 ticket price (have AAAcard gets you a few bucks off).  Wear sneakers, bring warm layers and toss a couple of beers and Scooby snacks in your sac and go off on a hike in the beautiful lush San Jacinto State Park.  Take a right at the end of the cement ramp and get to the ranger station to sign in and then follow the trails to Tamarack Valley.  Waiting for tram, hike to the Valley and back to the car can take 4-hours out of your lounge time, but it's definitely worth it and the hot tub will feel that much better after the hike.

ART: Forever Marilyn Statue (from American artist and Johnson & Johnson heir Seward Johnson) didn't do well on her Chicago stint, but she gets the skirts all a flutter here in Palm Springs.  Originally destined to depart in May 2013, she was extended to August and then November 2013.  Most want her to stay indefinitely; however if she does it she will have to move for the site is set to go under construction for hotel renovations.
Do not miss walking to the corner of Colusa & Arquilla in Movie Colony East to peek over the low fence and count the number of Dixie cups or homer buckets artist Kenny Irwin Jr. uses for his robo-art.  You may remember Kenny's set design for Conan O'Briens 2010 celebration. Check out some recent press on the artist here: Kenny's Kickstarter Project back in July 2012 New York Times Article August 21, 2013
Budget Break Down
So all in all, a weekend in Palm Springs will tug on your purse strings a bit but it doesn't have to break the bank.  By staying at a rental apartment on VRBO or airBnB you are already opting to save about $60-150 a night on your overnight stay – if not more considering free parking and most have free wifi.  Plus bringing your own cocktail kit helps save while lounging at the pool.  Here is our real expense spending for our past weekend stay.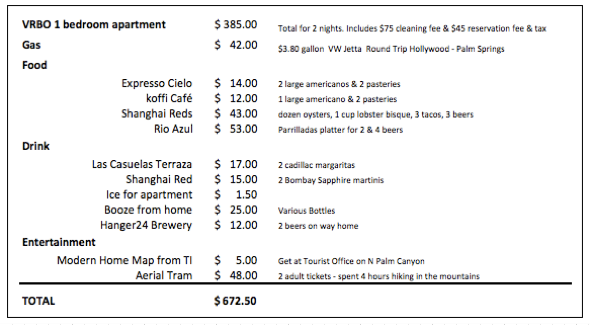 Map
Click Map to get to our Google Map listing locations of all highlighted pins.